Anatoly Karpov the great chess player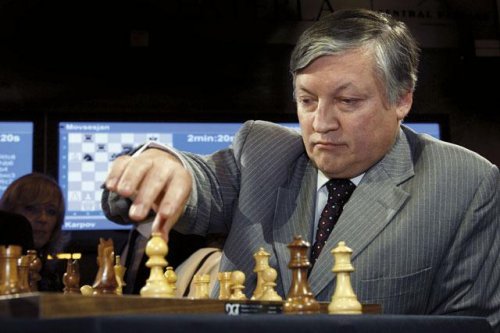 Anatoly Karpov was the world champion from 1975 and 1985. His highest ELO rating was 2780. The eminent player is the chess legend; he participated in many international tournaments and was the winner in more than 160 of them.
Kaprov trained in the Botvinnik's chess school. In 1962 Karpov became the candidate. In 1966, at the age of 15, Karpov was entitled the National Master. In 1966 Karpov won the Trinec International chess tournament and in 1967 the junior's Europe championship. In 1969 he became the junior world champion in Stockholm.
In 1970 Karpov became the youngest Grand Master ever. He was the winner of the Alekhin Memorial in 1971. In order to pretend to the world champion title and pay the match with Bobby Fisher, he beat Lev Polugayevskiy, Boris Spasskiy and Viktor Korchnoy.
In 1975 Karpov became the world champion for the first time. Bobby Fisher refused to play the match as he was not satisfied with the FIDE requirements. Karpov successfully defended his title by beating Viktor Korchnoy in 1978 in Philippines. In 1981 Anatoly Karpov beat Korchnoy again, with the score of 11-7 in Italy, and kept the world champion title.