Alexei Shirov biography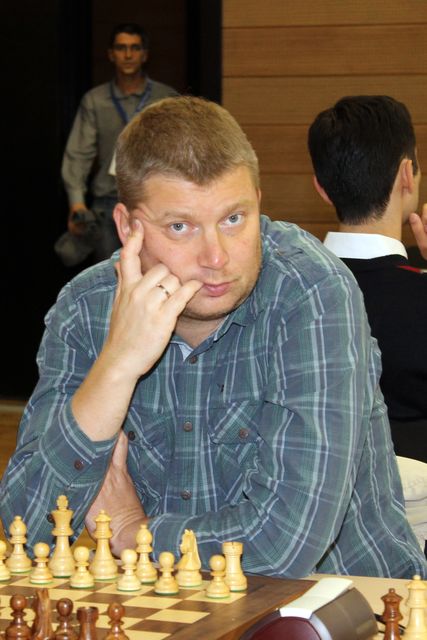 Alexei Shirov
is one of the players belonging to the chess elite of today. His best result that he achieved in 1998 is the fourth place on the world championship. Elo's highest rating was 2763, he achieved it as a result of his performance at 2009 M-Tel Tournament. Alexey Dmitrievich Shirov is the author of the following books: "Fire on board: Alexei Shirov's best games", "Fire on board, Part II: 1997-2004", "My best games in the King's Indian" and "My best games in Spain".
In 1988 Shirov won the juniors' U-16 world championship. Shirov became the International Master in 1989. One year later he became Grand Master. In 1991 he gained a victory at Biel chess tournament. After that, in 1997, he won the Ter Apel tournament and was the winner in Monte Carlo in 1998. In 2000 Alexei played against Vladimir Kramnik in order to get the opportunity to play the world champion match against Kasparov. Shirov beat Kramnik with the 5,5-3,5 score. However, due to some reasons, he could not play against Kasparov and was substituted by Kramnik for that match.
In 2000 Shirov played and lost the FIDE world champion match against Viswanathan Anand. He was the winner of the Paul Keres international tournament.
In 2007 Shirov reached the final stage of the world chess championship and was beaten by Gata Kamsky. In the same year he passed to the second round of the candidates' tournament to FIDE world champion match and lost to Levon Aronian. He beat Michael Adams in the first round. In 2009 he won the M-TelMasters tournament and was allowed to play in the Big Helmet chess tournament. In the course of that tournament he played against Aronian, Alexander Grischuk, and Sergey Karyakin. He finished on the last place with three scores.
After he married Veronica Alvarez, Shirov moved to Tarragone and was granted Spanish citizenship in 1994. He got divorced later and married Lithuanian chess player Victoria Chmilite but also divorced in 2008 and now lives in Latvia. He was born on 4 July 1972 in Riga.