Isolani Strategy. Strengths and Weaknesses of the Isolated Queen's Pawn - download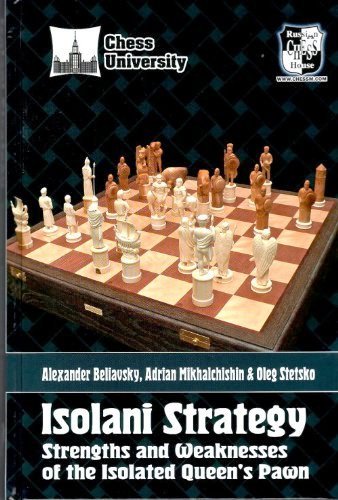 Aaron Nimzowitsch, one of the outstanding chess researchers, considered that the problem of the isolated pawn was one of the cardinal problems of positional play. We are talking about a central d4-pawn for While or a d5-pawu for Black, the isolation of which is characterised by the absence of the pawns of this colour on the c- and c-files.
From the dialectical point of view, the specific nature of the isolated pawn is the assessment of its inherent contradictions strengths and weaknesses, or in other words, dynamics and statics. In the opening stage of the game this is an assessment of the advantage of the first move, although for the modem slate of theory the creation of dynamically balanced positions is more typical.
From the static point of view, the defects of the isolated pawn are that it needs defending, especially when it is not supported by the bishop, and above all that it can be blockaded by a piece, usually a knight, occupying an important outpost (in our case this is d5), which is not easy to eliminate. The benefits of conlrolling this outpost become especially apparenl when the material is reduced, since the weakness of the squares e4 and c4 is felt.
Authors: Alexander Beliavsky, Oleg Stetsko, Adrian Mikhalchishin
Title: "
Isolani Strategy
"
Released: 2012
Format: rar/pdf
Quality: good
Number of pages: 240
Size: 39 Mb